ENDORSEMENTS
Scroll below for reviews of Dr. Crawshaw's contributions:
WRITING
"Taming the Abrasive Manager: How to End Unnecessary Roughness in the Workplace is the best book I've read about the steps that leaders, facilitators, and consultants can take to deal with nasty and demeaning managers. I especially like how Crawshaw uses specific examples of the kinds of language that these bullies use, and presents samples of conversations to illustrate the most effective way to "tame" these destructive jerks."
-Robert Sutton, Author of The No Asshole Rule: Building a Civilized Workplace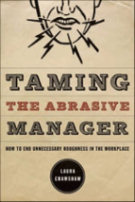 "Drawn from her extensive research in the field on management and workplace bullying, Taming the Abrasive Manager is a departure from traditional works on bully bosses by focusing on the root causes of why some managers resort to destructive interpersonal aggression in their management styles. Dr. Crawshaw walks you through her approach to coaching abrasive managers, and offers techniques for getting abrasive bosses to acknowledge their abrasive behavior, care enough to abandon it, and learn positive management strategies. The book offers techniques and insights that anyone, especially internal corporate practitioners, can utilize to intervene with abrasive executives, managers, and supervisors to motivate them to change their behavior. Dr. Crawshaw's tone is realistic and reflects her expertise in developing empathy in abrasive leaders to improve their interactions with coworkers."
-Anonymous Amazon Review
"I loved Taming the Abrasive Manager . Dr. Crawshaw has a sharp, witty and deeply insightful view into the behaviors and motivations of every leader. Who among us has never suffered "working for the man" in our career? I have been fortunate enough to have the chance to lead many organizations, and more than once I have caught the abrasive manager come out of my mouth! This book is a short read. It's only 200 pages long, so there is no excuse for even the laziest reader. If you lead a team of any size, I beg you read this. If you work for someone who makes you miserable, this book is the answer to your prayers. The first few chapters create an easy to understand framework for evaluating the "why" of bad behavior in a manager. And the latter part of the book give practical, immediately useful advice on how to change you or your manager's behavior."
-Anonymous Amazon Review
TRAINING
"Dr. Crawshaw's training on The Science & Practice of Coaching Abrasive Leaders provided an eye opener for us on how to more effectively address situations involving managers who are perceived as abrasive. We believe that the coaching approach promoted by the Boss Whispering Institute has great potential to address such situations in a multi-cultural environment. In addition to the training and background materials we have been particularly impressed by Dr. Crawshaw's experience and her readiness to share that experience with a wider audience "
-Mame Diagne and Helmut Buss, Ombudsmen for the United Nations Funds and Programmes
"Laura's method on Boss Whisperers is an innovative and efficient way to help an organisation to tackle the problem of complex personalities such as abrasive managers."
-Tahiana Andriamasomanana, Ombudsperson, United Nations High Commissioner for Refugees
"Laura's work is amazing, her support to trainees is incomparable and her dedication to this field is exemplary."
-Rachel Schaming, Director of Human Resources, Executive Coach
"I attended the inaugural Boss Whispering training program...Laura Crawshaw continues to be a thought-leader in the field of bullying and harassment in the workplace."
-Lynn Harrison, Executive Coach
"Laura's training on The Science & Practice of Coaching Abrasive Leaders exceeded my expectations at a time when I felt quite jaundiced about training programmes; Laura's workshop was thorough, relevant and deeply compelling."
-Barbara McCulloch, Office of the Vice-Chancellor, University of New Zealand
"I had the privilege of following a full course on Laura's method in dealing with the "abrasive" managers. It was very new to me to discover that finally there is a proven method to lead such characters to a better understanding of their situation, the effects of their actions and consequently driving them to ameliorate quite substantially their human leadership."
-Vincent Vuillemin, Ombudsman, CERN
"Dr Laura Crawshaw is an outstanding professional, whose thought leading training and keynote speeches are informative, inspiring and transformational. Her work at The Boss Whispering Institute has the potential to completely change the way abrasive managers impact culture, productivity and the lives of those who work for them. In addition she is a remarkable person."
-Louise Baker, Executive Coach
"Laura's dedication, research, training, and solutions for transforming abrasive managers in the workplace into successful interpersonal influencers, is a leading edge, major contribution to healthy and productive work environments. I expect her approach to have world-wide impact."
-Susan Forster, Senior Human Resource Analyst
"I have known Laura for several years and have found her to be passionate in her search to create peaceful and harmonious workplaces by addressing some of the destructive behaviours that are sometimes adopted by bosses and others. Instead of taking a narrow perspective Laura has found a way to empower bosses to respond appropriately to the common pressures and threats of the workplace."
-Noreen Tehrani, Ph.D., Managing Director, Noreen Tehrani Associates Ltd
"Dr. Crawshaw's training moves away from labeling and holding onto workplace bullying stereotypes, and gives organizations hope that they can help their leaders change and be more insightful, effective and less abrasive as leaders."
-Pattie Porter, LCSW, Founder and President, Conflict Connections, Inc.